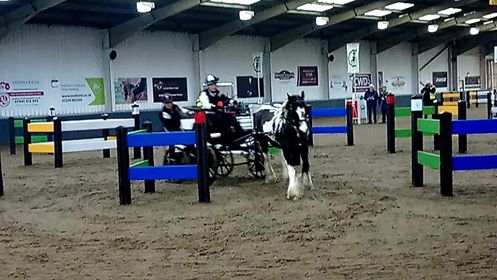 ---
SMALL PONY CLASS
Richard Wood and Charlie in Obstacle 1
(Click on photo to view video)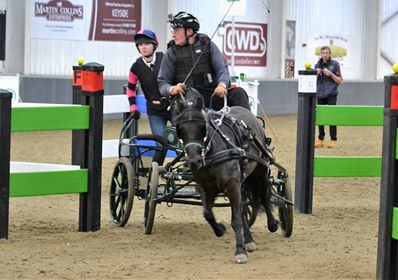 ---
CLUB WINTER INDOOR DRIVING CHAMPIONSHIP
The winner of the 2017 / 18 season was
KELLY WILSON
and the Runner Up was
JOHN GADSBY
WELL DONE Kelly for your 4th successive win!!!
---
COMMITTEE 2018
The 2018 Committee has now been formed
Roles are as follows:
Chairperson - Anne Chambers
Secretary - Carol Wood
Treasurer - Richard Wood
Course Builders - Richard Wood, Mike Lawson and John Gadsby
Health & Safety Officer - Mike Lawson
Steward Secretaries - Jayne Hayes and Sally Milburn
(In conjunction with Rebekah Spowage)
Publicity - Anne Chambers
Minutes Secretary - Sally Milburn
(Who will also be responsible for producing the newsletter)
---
2017 CUP WINNERS
OPEN CLASS - CAROL WOOD
NOVICE CLASS - JOHN GADSBY
COMBINED LEAGUE CHAMPION - JOHN GADSBY
MOST IMPROVED NOVICE - JAYNE HAYES
SWISS DERBY PLATE - ANNE CHAMBERS
HIGHEST AVERAGE DRESSAGE SCORE - KELLY WILSON
STEWARDS OF THE YEAR - SHEILA BROOKES
SPORTSPERSON OF THE YEAR - CHRISTINE and FRANKIE LYTE
KING of the CONES - CAROL WOOD
Well done to all our Winners. We look forward to seeing you all in 2018!!!
---
CLUB SAFEGUARDING POLICY
Following training on the current Government Safeguarding legislation organised by BC, the club is pleased to announce that Anne Chambers and Carol Wood are the 2 appointed Club Safeguarding Officers (incorporating - Child Protection together with Vulnerable Adults and Welfare).
---
FOR INFORMATION ONLY: As we keep a list of all members details on a database we are bound by the Data Protection Act 1998, which means that we are not allowed to give any member information to a third party without the members' permission.
All membership renewal forms will give you the option to say whether or not you agree to having your information divulged or not to other members.
This information will NOT be made available to anyone other than club members
---
Please send Carol details of anything that you want to advertise on the website for sale. Advertisments do not have to be equestrian related. There is no charge to Club members for advertising.
---
We hope you enjoy your visit.